Below are a selection of the musicians we work with. We also work with many great agents so please contact us with your entertainment requirements no matter how obscure! When contacting, please include your budget as bands come in various sizes with differing price range.
---
The Festival Trio - DJ, Sax and Percussionist (Bongo player)
The Festival Trio comprise DJ, Sax & Percussion offering a live aspect to a standard DJ set. Combined, they play fantastic music that everyone can enjoy and rock out to. How does it work? The DJ plays a party set on the decks and the sax & percussion improvise and play on top of the DJ. The Sax offers melodic harmonies and sounds great on Soul, Motown, Disco and Dance/House/Club Classics. The percussion plays a mix of Bongos, Cowbells & Drums and works on most genres.
---
---
Acoustic, Walking and Playing 5 piece.
This roaming 5 piece band perform feel good hits from the 1950's to current favourites performed in a fun, acoustic style. Like a walking Mariachi band they require no amplification or stage, preferring to mingle with the audience - serenading, flattering, surprising, and seducing their listeners as they go. Previous venues and events include residency band at Wimbledon Tennis Championships, The Ritz, The Langham, Hampton Court Palace, Grosvenor House, The Ham Yard Hotel.
They can play during any drinks reception inside or out or for a party in the evening with additional sound system.
Brilliant fun and with serious WoW factor.
---
Book a STYLISH Covers Band for your Party.
We have a selection of great cover bands that you can book for your party, wedding or corporate event. Good cover bands vary in the number of players (thus space required) and price. Generally, our bands play for 2 x 45 or 60 minute sets and know how to work efficiently with a DJ.
Please provide your location and a start time for the band before we can offer a quote and availability. Also, please let us know the budget you have available as they can vary greatly in price.
---
The Cocktail Trio - Sax, Guitar and Double Bass - Perfect inside or out.
The Cocktail Trio comprise Sax, Guitar and Double Bass and are ideal for background music during a drinks reception or ceremony. Their repertoire enhances any occasion with a sophisticated mix of Standards, Jazz and Classics, without taking stealing the spotlight from the host!
---
Great Sax player with IPod Backing Track Mix
A great Sax player can either accompany a DJ or play during a drinks reception at a party or a wedding. If you book them for drinks they can play over an IPod mix from our library or, we can create a bespoke mix that they will play over the top of. For example, if you like Reggae we can create a Reggae mix - just perfect on a Summer's day.
Tickle the ivories with a great pianist.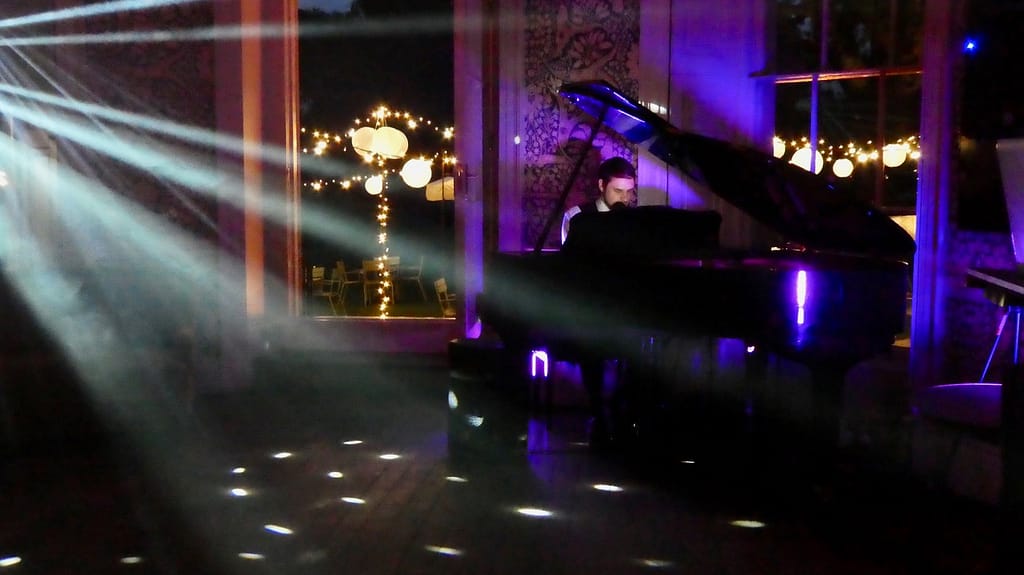 A Pianist is perfect for creating beautiful background music for a drinks reception or dinner and ideal if you are working to a budget. We have a number of Pianists available, with the option of piano hire and delivery it to your venue (if not, they can bring their own portable piano and PA). Each of our Pianists offer different repertoires so contact us with your requirements.
If you would like to receive a quote for a pianist, please contact us with your venue location and your preferred repertoire i.e. Classics, Jazz, Rat Pack or a pianist that offers contemporary artists including Coldplay and Oasis (as an example).
Depending on your location, we can also hire and supply a grand or up-right piano for the pianist to play on. Add a candelabra for high camp!
---
The Singing Waiters - WoW your guests with the ultimate cabaret experience
Incognito specialises in providing innovative and prestigious acts for all kinds of special events including private parties, corporate functions, concerts and stadium events. The Acts deliver the best of Opera, 'Rat Pack' and Dance, dazzling audiences with unique, unforgettable and stunning performances. Whether disguised as three singing waiters, guests, or other characters', their beautiful harmonious singing, breathtaking dancing, charisma and visual appeal prove Incognito are a world-class, one of a kind act and perfect for any event.
They tailor their repertoire for each and every private party to guarantee a unique and truly special show. From Opera, musicals, 70's, swing and much more - we'll work with you to bring your vision come to life.
They offer various setups and repertoire, so please contact us for further details.
---
The elegant sound of a String Quartet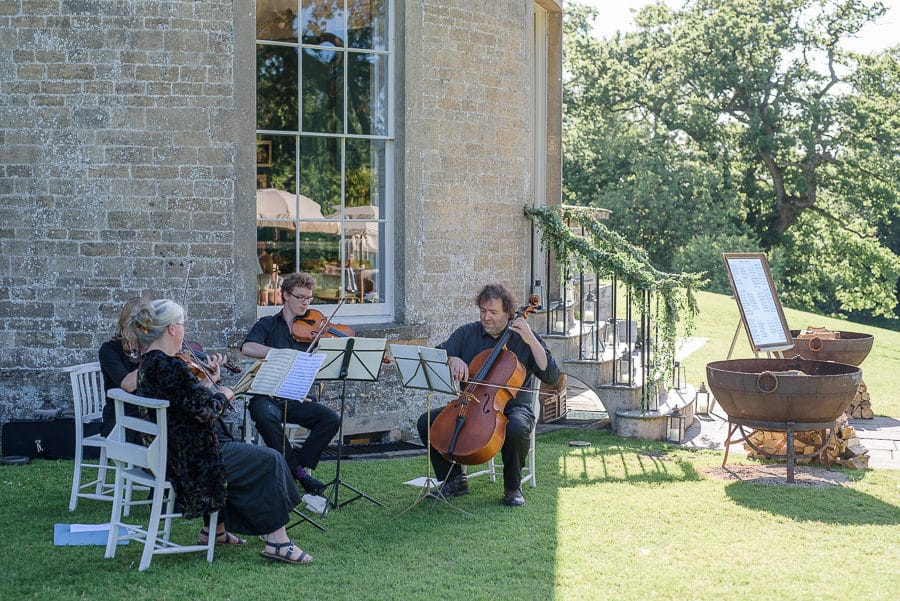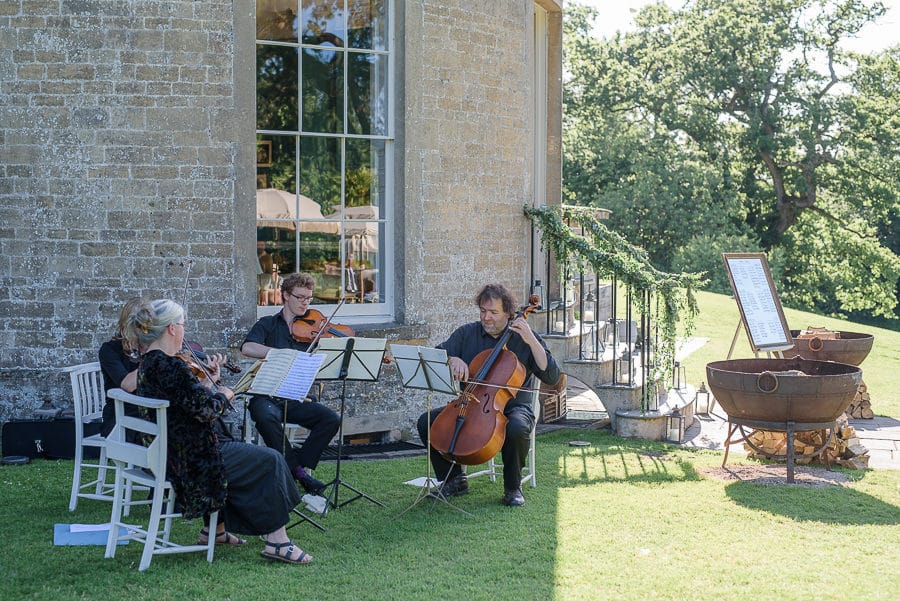 Our String Quartet brings together four skilled professional musicians who love making music together. Their enthusiasm, energy and vibrancy is infectious never fails to enhance the events, ceremonies and parties that they play for. Live music from The Quartet will introduce a new special dimension to any occasion. Every performance is bespoke, designed by skilled musicians to create music for the atmosphere that you desire, be it romantic, dramatic, relaxed, informal or stately. While they boast an impressive repertoire varying from classical to jazz, if you would like to suggest a particular piece of music for your event, they are happy to cater to this.
Watch video of The String Quartet
---
Create a fun, lively atmosphere with a Crooner.
We offer a highly experienced and dynamic performer, happy to play with his band or in an intimate solo setting. He has an amazing rapport with the audience and a repertoire that spans four decades, incorporating the best of Swing, Jazz Pop and Soul with a hats off to Rock and Roll. Our singers musical and social ability crosses all boundaries and always sets a fabulous tone for any event. This option works especially well during a wedding breakfast or early evening as a solo performer.
Example Repertoire:- Cry Me A River, Home, Everything, Hollywood, Lost, Dear darlin', Candy, Save the Last Dance for Me, Crazy Little thing called love, Me and Mrs Jones, Million Love Songs, Patience, Rule the World, Look of Love, Gold, Every Breath you Take, Rollercoaster, When you say nothing at all, Hero, Come Up and see me make me smile, First Last my everything, September, December 63 (Oh what a night),Angels, Dance the Night Away, Mustang Sally, My Girl, Suspicious Minds, Daydream Believer, Sweet Caroline, Saw her standing there, You raise me Up, Dance with me tonight, Moves like Jagger.