Nige started his DJ career at the age of 14 before entering into the world of radio, music and advertising.
Since 2003 Nige has been resident DJ at the celebs' favourite hangout, Babington House Hotel in Somerset where his skill on the decks has been sought out for the entertainment of Adele, James Corden, Kate Winslet, Eddie Redmayne, Russel Howard, Michael Mcintyre & Nicholas Cage to name a few!
Some of his career highlights include:- Producer Pete Tong Essential selection on Radio 1, producer at Virgin Radio, Glastonbury festival backstage DJ (Pyramid),the co-founder of Factory Studios an award-winning TV & Radio production company where he mixed and produced many dance compilation albums including Clubland, ClubMix, Disco Mix, Late Night Chill.
Nige is a highly respected DJ who prides himself on his ability to read a crowd and give them the best time possible. He is also a director of STYLISH Entertainment ltd.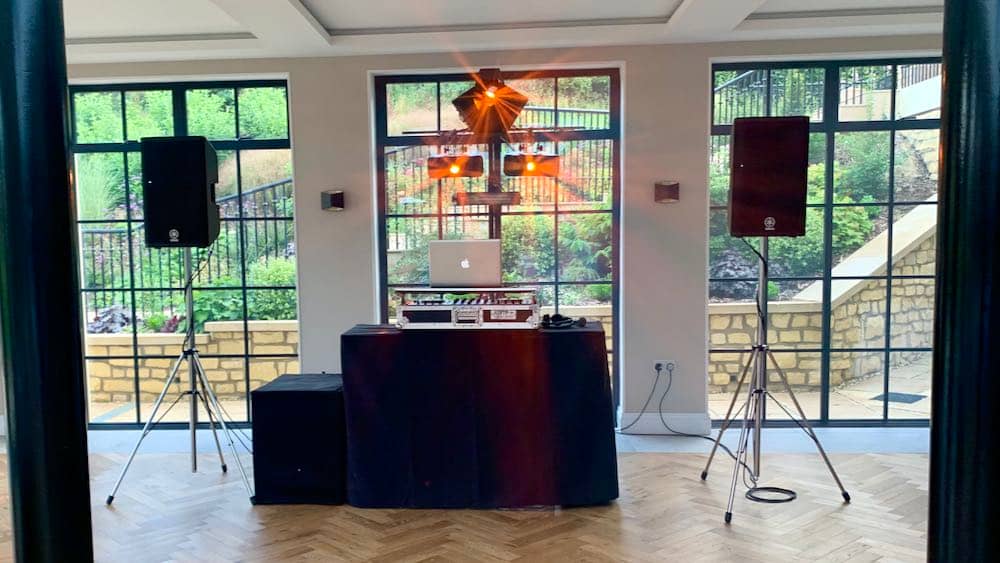 As you can expect from a DJ that plays at the highest level, his sound and lighting setup are exceptional.
Booking Nige for your wedding or party guarantees a highly creative DJ who mixes seamlessly across genres of the last 4 decades.
His music knowledge is extensive and ever-growing, with a love of music from all era's and genres he plays everything from Current, House, Garage, Ibiza, Old Skool, Soul, Funk, Dance, Reggae, Rock N Roll, R&B, Indie, Urban, Ska and any other genre from the 30,000 tracks he holds on his Mac. However, if you're looking for cheesy hits or synchronised dancing, you won't get them from a DJ of this calibre. Nigel plays the very best; staying true to his roots, he never fails to get everyone on the dance floor, creating memories and having the time of their lives.
The Met Bar, London. Thank you Nige. You did a magnificent job!, It was a magical night for the Stringers and I am happy you were on hand to help make it so!  See you soon.
Just wanted to say a massive thank you for last night Nigel. You and Leo (Sax player) were absolute champions. Not sure a single guest left the dance floor for the 2.5hrs you were playing. We have had some many amazing comments today and you guys are mentioned in almost every text. Apologies we couldn't get you on sooner, and if that 11pm curfew wasn't there we'd still be dancing now!
I wanted to drop you an email to thank both you and Nigel. He was brilliant on the day and everyone had a fantastic time (we've had lots of positive feedback on the tunes he played). We loved having him there, and his set was absolutely banging. Please pass on Nancy and my thanks for his part in such a memorable and incredible day. He was, predictably, fantastic.  Thanks again,   
Hope you're really well and had a good bank holiday weekend. Just a quick note to say a massive thank you for everything last week. It all went so well and really helped make our day so special. Music on Thursday was perfect and exactly want Emma and I wanted! I had so many people on the night and the next day commenting on what a great mix you had and it really kept everyone on the dance floor all night. Also the light in the walled garden were beautiful and helped create such a lovely atmosphere for dinner. Thank you again!
Hi Nigel, It was quite a while back now, so apologies for the delayed email (think we've been on a wedding detox!). I just wanted to say thank you for our wedding in Cornwall on 20th Aug, it was really fantastic. A lot of people have let us know that they thought your DJ'ing was incredible - so thanks so much. Best wishes,
Hi Nigel and Ali Just wanted to say thank you soo much for helping us host such an amazing night on our special day. It was such fun and we've had so many nice comments from guests about how good the evening part was! Ali, you have been great from start to finish. We really appreciate all your help along the way - your service was so efficient, friendly and organised. Nigel, you are a top tier DJ! You really brought the party vibe we wanted and were an absolutely great host. Cannot thank you enough! We will 100% be recommending Stylish Entertainment. Take care and best wishes.
Equipment Used
Standard Setup
Macbook Pro with Pioneer DDJ SX2 controller
Yamaha Active Sound-system – Pair DXR12, DXS15 Sub-woofer
Lighting – Martun Rush Wizard, 2 x Equinox Orbis Projection, ADJ Jolt 3000, Demon Strobe all controlled via Soundswitch lighting control software.
Haze Machine.
Optional Extras
Gold mirror DJ booth.
Extended dance-floor lighting (useful in wide marquees)
LED mood lighting working with dance-floor lighting.
Radio microphone for speeches
Early-setup
Book a Sax player and / or  Percussonist to play along side Nige
Listen to Nige in the mix.
 
Sunday night party in January 2023
NYE 21-22 Babington House Hotel 5 Hour Set


Kitchen Disco Vol 2


September Wedding Mix with Live Sax
90's Club Classics


80's Remixed Mix



"The Crowd Say Bo Selecta"
Some of the many venues Nige has entertained a crowd.
Monaco Yacht Club
Maritime Museum Amsterdam
Babington House Hotel, Soho House
Goodwood House, Sussex
Hotel Tresanton Cornwall
Cowley Manor
Berkeley Castle
Coombe Lodge
Priston Mill
The Chapel, Bruton
The Roth Bar & Grill
Orchardleigh Estate
Elmhay Park
North Cadbury Court
Bradley House
The Assembly Rooms, Bath
Barnsley House
Pembroke Lodge, Richmond Park
Yarlington House
Lulworth Castle
The Imperial
Charlton House, Shepton Mallet
Easnor Castle
The Great The Barn in Tetbury
Euridge Manor
Sessions Art Club London
Many private addresses
Calcot Manor
Cardiff City Hall
Cardiff Castle
Athelhampton House
Homewood Park
Shilstone Manor
Pentille Castle
Stoke Place
St Stephen's Hampstead
St George's Bristol
Gant's Mill
The Manor Castle Coombe
Elmore Court
Revolution
The Mayfair Hotel
Dewsall Court
Polhawn Fort
Syrencot
Bailbrook House
The Gathering Barn
Thames Rowing Club
Hampton Court House
Hestercombe Gardens
Pencarrow Estate
Northover Manor
Boconnoc Estate