Welcome to STYLISH Entertainment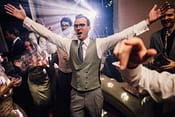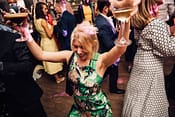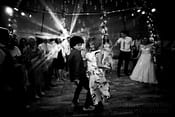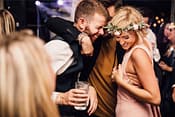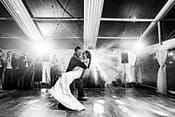 Looking for a DJ to make your event unforgettable? Look no further than our stylish DJs! Our experienced and reliable DJs know just how to get the crowd dancing with their amazing mix of music, sound, and lighting. Choose from our brilliant solo mobile DJs or our festival trio of DJ, sax, and percussion to truly wow and entertain your guests.
We pride ourselves on our ability to read the crowd and cater to everyone's musical tastes, from the music lovers to your Aunt Betty. And to ensure a unique experience, we have banned overplayed and cliché songs such as YMCA, "Come on Eileen," and "The Macarena."
Booking with us means having the peace of mind that comes with working with an established, reputable company.
Don't wait any longer! Book your wedding, party, or corporate DJ with Stylish today and let us bring the party to you!
DJ Nige.
DJ Nige started his DJ career at the age of 14, honing his skills at local parties and events before entering into the wider world of London's radio, music, and advertising industries. Throughout his career, DJ Nige has established himself as a highly talented and sought-after producer & DJ, with highlights including producing for Pete Tong's Essential Selection on Radio 1, playing as a resident DJ at Babington House Hotel in Somerset for 20 years, and entertaining crowds at the Glastonbury Festival as backstage DJ at the Pyramid stage. Alongside his DJing career, Nige also co-founded an award-winning TV & Radio production company, Factory Studios, where he mixed and produced many dance compilation albums.
Since 2003 Nige has been resident DJ at celebrity hangout, Babington House Hotel in Somerset where his skills on the decks & reading a crowd has been sought out for the entertainment of Adele, James Corden, Kate Winslet, Eddie Redmayne, Russel Howard, and Michael Mcintyre to name a few! With his exceptional talent and extensive knowledge of music, DJ Nige is the perfect choice for any event, whether it's a wedding, corporate party, or birthday celebration.
His music knowledge is extensive and ever-growing, with a love of music from all era's and genres he plays everything from Contemporary, House, Garage, Ibiza, Old Skool, Soul, Funk, Dance, Reggae, Rock N Roll, R&B, Indie, Urban, Ska and any other genre from the 30,000 tracks he holds on his Mac. However, if you're looking for cheesy hits or synchronised dancing, you are barking up the wrong turntables!
To view full details with images & videos please view DJ Nige's page


Recent Testimonials
The Met Bar, London
Thank you Nige. You did a magnificent job!, It was a magical night for the Stringers and I am happy you were on hand to help make it so! See you soon.
Rob Stringer, CEO Sony Music Worldwide, The Met Bar, London.
 
Sessions Art Club, London EC2
Just wanted to say a massive thank you for last night Nigel. You and Leo (Sax player) were absolute champions. Not sure a single guest left the dance floor for the 2.5hrs you were playing. We have had some many amazing comments today and you guys are mentioned in almost every text. Apologies we couldn't get you on sooner, and if that 11pm curfew wasn't there we'd still be dancing now!
Sophie & Sam Hawsley, Sessions Art Club, London
 
Dorfold Hall, Nantwich, Cheshire
I wanted to drop you an email to thank both you and Nigel. He was brilliant on the day and everyone had a fantastic time (we've had lots of positive feedback on the tunes he played). We loved having him there, and his set was absolutely banging. Please pass on Nancy and my thanks for his part in such a memorable and incredible day. He was, predictably, fantastic. 
Thanks again, 
Alex & Nancy Horlock, Dorfold Hall, Nantwich, Cheshire
 
Babington House Hotel, Somerset
Hope you're really well and had a good bank holiday weekend.
Just a quick note to say a massive thank you for everything last week. It all went so well and really helped make our day so special.
Music on Thursday was perfect and exactly want Emma and I wanted! I had so many people on the night and the next day commenting on what a great mix you had and it really kept everyone on the dance floor all night.
Also the light in the walled garden were beautiful and helped create such a lovely atmosphere for dinner.
Thank you again!
Max & Emma Rayner, Babington House Hotel
 
Listen to Nige
 
Sunday night party in January 2023
NYE 21-22 Babington House Hotel 5 Hour Set


Kitchen Disco Vol 2


September Wedding Mix with Live Sax
90's Club Classics


80's Remixed Mix



"The Crowd Say Bo Selecta"
Rich S DJ
After discovering a passion and love for music whilst studying Rich worked his way up through the student night scene in Oxford (Fuzzy Ducks, Bridge Mondays etc…) and London (Crazy Larrys, Embargos etc…). Accustomed to playing regularly in front of 1000's of people his musical style is broad and Rich is experienced in playing weddings, 18th, 21st, 30th Birthdays and a multitude of corporate events.
Through a vast knowledge of music past and present his range and ability to play whatever style is necessary for your party is invaluable. His exuberance and hard work has also seen him become a co presenter on Oxfordshire's largest local breakfast show The Morning Glory on the multi-award winning JACKfm in Oxfordshire. When not presenting early mornings Rich is honing his DJing as resident for the O2 Academy in Oxford. Rich is an extremely accomplished and adaptable DJ who is ideal for a party whatever the occasion."


Recent Testimonials
Almonry Barn, Somerset
Hi Ali,
We just wanted to send you a quick email to thank Rich for the excellent DJing he provided for our wedding. We were so impressed with the his professionalism and the standard of the service he provided, as well as how friendly and helpful he was.
I'd really grateful if you could pass our thanks onto Rich for making our day even more special.
Many thanks,
Rachel and Will Espensen, Almonry Barn, Somerset.

York House, Twickenham
Hi Ali
I just wanted to write and how much we loved the set Rich played for us at our wedding last Saturday. Most of our guests said how great he was, and some haven't danced that much in quite some time. We even had one guest who told us half way through the night that Rich needed to play a bad record so he could have a break! Again thank you so much Rich, you brought a truly great day to a close in fabulous style.
Pat & Christina Odey, York House, Twickenham
Swallows Nest Barn, Warwickshire
Hi Ali
Just a note to say thank you for organising our wedding DJ so well. You were very efficient and Rich S did a brilliant job on the night.
Charlotte and Martin Underwood, Swallows Nest Barn, Sherbourne, Warwick.

Listen to Rich in the mix
James F
DJ
James is a highly recommended Wedding & Party DJ with over 15 years experience playing at some of the UK's most prestigious venues, including The Sandhurst Military Academy for Michael Douglas & Catherine Zeta Jones, The Carling Academy in London for their famous 'Guilty Pleasures' events. Also residencies at The Crown Hotel Group and sports venue White Hart Lane.
James's speciality is Weddings, Private Parties and Corporate Events where he brings an impressive wealth of knowledge and a huge range of music from all styles and genres. His kit includes a stylish digital DJ set up with star cloth fronted booth and full lighting rig. The emphasis is on a stunning look with perfectly balanced sound.
James' guilty pleasure is 80's music as that's what he grew up listening to. The DJ in him relishes the challenge of 'reading a room' and filling the floor. Creativeness comes with the territory, any decent party DJ needs to be able to think a few tracks ahead, be flexible and knowledgable enough to keep a full dance floor with any given style or genre.
James is also an award winning actor/producer appearing in several well known Film & Television productions over the past 20 years, including Green Street, The Constant Gardener, Derailed and Eastenders.


Recent Testimonials
Devonshire Terrace, London

James, thank you so much for an amazing set yesterday! It was just awesome and I think it's fair to say everyone loved it! Haven't had such a good dance in a long time and it's because you read the mood so well. A massive THANK YOU from me and David! X
Demitria & David Van Eck, Devonshire Terrace, London EC2.
Westonbirt School, Tetbury
I hope you are well. I am sorry this email is so late!! i have just been so busy since the wedding. I wanted to let you know how happy we were with our DJ James F. He did a fantastic job, the music was great we had such a fun night. He was great with setting up and the lead up to the wedding and during. I couldn't recommend him enough. Please thank him for us.
Kind Regards,
Mr & Mrs Bain, Westonbirt School, Tetbury
Listen to James in the mix.
James H DJ
James launched his career in the music industry in the late 90s as a radio DJ for 97.6 Chiltern FM. With his innovative and fresh style of presenting, he quickly gained notice and went on to work with Heart FM in London. This opened doors for him, and he became a highly successful live TV presenter and the face of TOPSHOP TV throughout the noughties.
Over the years James has collaborated with notable names such as Judge Jules, Zane Low, Chase and Status, Shorty Blitz, DJ Luck & MC Neat, Jaguar Skills, and Clara Amfo. He has played at hundreds of venues throughout London, including Adam Street, Alexander Hay, Bounce, Coppa Club, Depot, Dirty Martini, Embassy, Gilgamesh, GEM, Grace, Heaven, Jewel, Paper, PRYZM, Royal Thames Yacht Club, Sterling in the Gherkin, Sushisamba, TigerTiger, and Zoo Bar.
Furthermore, James is a skilled awards ceremony and fashion events DJ, with River Island, French Connection, Schuh, Timberland, REISS, Whistles, Jack Wills, Uniqlo, and Benefit Cosmetics among his ongoing clients. He has also gained recognition for his performances at CHILFEST, an 80s festival held in Hertfordshire that features several significant headline acts.
With an extensive music knowledge spanning five decades and a unique talent to pack a dance floor, James H is undoubtedly one of the most sought-after DJs. He can personalise his sets to meet any requirements and play any genre, including House to Kisstory, 80s-10s, Commercial Chart, Disco to Pop, and Alternative to Indie.
Ready to get the party started? Book James H, one of the most sought-after DJs in the business! With his vast music knowledge and unique talent to pack a dance floor, your event is guaranteed to be a hit. Contact us now to book James H for your next event!
Listen to James in the mix







---
Recent Testimonials
Marquee Wedding, Ruscombe, Berkshire
I hope you are well.  I just wanted to write some positive feedback about James H, who I booked as the DJ at my recent wedding on 10th August.  My wife, Clare, and I could not be happier we chose him.  He was positive, friendly and communicative thought the whole process - a real pleasure to deal with.   He kept the dancefloor full all night and so many of our guests commented how great the music was.  Clare and I were both able to relax and enjoy the evening knowing the music was in good hands.  Thank you for your service and providing us with a great DJ.With thanks and kind regards.
Clare and James Fisher, Marquee Wedding, Ruscombe, Berkshire.

Mells Barn Wedding Somerset
We had James H, from Stylish Entertainment, DJ our wedding a few weekends ago and we couldn't have been happier. It was one of the best decision we made to book him. We had discussed the music we liked but the set on the night was better even than we could have hoped. He read the crowd perfectly, mixing everything from ska punk to DnB to pop. The dance floor was packed all night – we will certainly be booking him again. The communication beforehand with Ali and Nigel at Stylish and James H was great (to talk through the details of what we wanted / the types of music we liked/disliked). On the day, James was there early to set up and was very flexible about shifting timings on the night. He also worked around a sound limiter while mixing live without a single problem on the night. Highly, highly recommended.
Rebecca & Dan Shreeve, Mells Barn, Somerset
DJ Rick E
DJ Rick started out working in radio at age 18, presenting music based radio shows to the people of Herts Beds & Bucks. This quickly led to playing live in local venues, pubs and the Chicago rock cafe in Milton Keynes. Taking his skills into London, Rick could be heard daily for many years on Topshop's dedicated instore TV channel at Oxford circus. Playing out music videos, VJing, presenting links and competitions. Being in the heart of the West End and having a passion for DJing Rick found himself playing at many popular bars & clubs over the years including Tiger Tiger, Sports Cafe, Loop Bar, On Anon, Zoo club, O bar and more recently Hayes Galleria, The Cow in Stratford and the Slaughtered Lamb in Farringdon.
DJ Rick has traveled the country as a mobile DJ performing at hundreds of weddings, corporate events & parties. This is where Rick feels his experience really helps him, being able to mix up the genres and styles to suit all age groups & keep the dancefloor busy all night! From 70s disco to 80s pop and from current chart hits to dance classics, Rick can play a set to suit any party crowd. 
Genres - 80's / 70's Disco / 90's Dance / House / Chart hits / Motown / Soul&Funk / Country / Classic Rock / Britpop.
Recent Testimonials
The Letchworth Centre.
Hi Alison,
I wanted to write and let you know that Rick did an amazing job at our wedding. The music was great and everyone was on the dance floor from beginning to end. I know most guests wanted him to play on! Thank you for all your work in organising this and making it happen.
Kind regards,
Aimee & Andrew Prior, The Letchworth Centre.
---
Battleaxes, Bristol

Hi Ali,
We have just got back from honeymoon and wanted to email to say a massive thank you for all your help with the wedding. We absolutely loved the Music in the evening and Rick did a fantastic job of playing the right songs to get all of us up and dancing. The dance floor was never quiet and we all so enjoyed it. Please do pass on our thanks to Rick as I didn't actually get a chance to speak to him on the day, but we all so appreciated him getting on and doing what he does best. Here's a picture of me and my mum thoroughly enjoying the music! We would definitely recommend him and Stylish to others.
Thanks!
Charlotte & Jonathan Jerrome, Battleaxes, Bristol.
---

Listen to Rick in the Mix

Chart Hits Mix
90-'s Dance Mix
 
80's Mix
THE FESTIVAL TRIO - DJ, SAX AND PERCUSSION
WoW your guests with a great party and event DJ accompanied by a talented sax player and creative percussionist.
Think of them as a small band which are perfect in intimate spaces. They bring a live aspect to a DJ setup without the limitations of a bands set list.
So how does it work? The DJ plays to the crowd whilst the sax and percussionist jam alongside. The whole evening is improvised with an unlimited repertoire.

Minimum width required 5 metres.
---
LISTEN TO A RECORDING FROM AN EARLY EVENING SET.

WATCH VIDEO







When you contact us with your date, location and timings we will email you a quote based on current availability. If you wish to book, we will email a booking form and we will arrange for you to speak with your chosen DJ (to make sure they are the right person for you) before you book or near your party date.
Our party DJs and mobile DJs play in the following locations: London, Bristol, Bath, Birmingham, Somerset, Wiltshire. Devon, Dorset, Oxford, Cardiff, Surrey, Gloucestershire, Berkshire, Essex, Sussex, Exeter, South Wales and other areas of the UK and Europe by request.
Please Contact us for a free quote based on your location and timings .